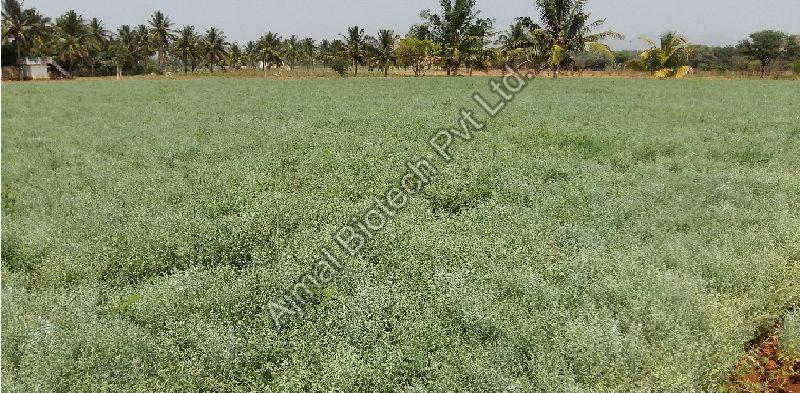 Davana oil is formed by steam distillation of the leaves, stems, and yellow flowers of an exotic plant botanically known Artemisia Pallens. It has a rich and fruity scent that is used to enhance high-end fragrances and perfumes worldwide. Davana is famous for its adaptive scent. It implies that it smells and reacts in a different way to each person.
About fragrance of Davana Oil
Davana Oil is grown and nurtured in India. The fragrance is fresh and fruity with hints of strawberry, vanilla, and blackcurrant. It can be categorized as a medium power base in both flavours and fragrances. The scent is considered to be comforting and it also offers a soothing effect when used in aromatherapy.
Benefits of using Davana oil
Davana has so many therapeutic benefits. Using this oil you can have several remedial effects like using it as an antidepressant. It has special properties to offer like antiseptic, antiviral and mild insect repellent.
• It smells sweet, warm, and soothing
• Can be used as a natural replacement for traditional perfume
• It supports in leading healthy work-life balance
• Helps Heighten spiritual senses
• Uplifts romance with its amazing aroma;
• Davana is traditionally an aphrodisiac in some cultures
• It can help make skin appear blemish-free
• Nourished the skin to become more radiant glow
• Comprises the naturally occurring ingredients linalool, davanone, and biclcogermacrene
The history behind using Davana oil
The davana plant is native to southern India and a member of the daisy family. In India, it's customarily used by Ayurvedic healers to form stability among the three Doshas, or energies, all over the body and spirit. This universal approach to balancing health and wellness is many years old and is still performed today.
Usage:
Davana has a rich, fruity aroma that boosts the feeling of balance, calm and happiness. Diffuse its scent during the day to maintain balance and clarity or incorporate the exotic fragrance into daily meditation to intensify spiritual senses as you restore balance. Davana Oil Exporters take care of the quality before delivering every single consignment. Procuring right from reliable manufacturers they are assuring only authentic quality products.
How to use it?
Treat your skin with Davana oil by placing some drops into your hands and rubbing it gently over your face, neck and other parts. Simply pour essential oil or mix your own combination in the bottle using a pipette or a dropper. It is something that acts as great gifts & using it in personal care products is really helpful for all ages and skin types.
Where to get this essential davana oil?
When it comes to getting only the purest form of davana oil, contact only leading davana oil exporters from India. As the origin of the flower from where the oil is extracted is from India, so it is promising to get only the best quality oil.
The leading exporters of davana oil can support with the following benefits:
• Capacity for bulk orders
• Easy and damage-free delivery
• Affordable pricing
• Purest form guaranteed
• Ethical business practices
• Team of skilled quality checkers