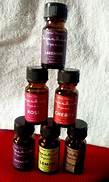 Essential oil is a concentrated form of aquaphobic liquid that comprises volatile chemical compounds extracted from plants and herbs. The other name for essential oils is volatile oils, ethereal oils, aetheroleum or just known by the name from the plant from which it is derived. A few examples may be lemongrass oil or the very popular clove oil.
How Did 'Essential Oils' Get This Name?
The term natural essential oil is derived from the fact that the oil is derived from a specific plant whose characteristic fragrance it gives out. It also has the characteristic properties of the plant and serves the purpose for which the plant is effective.
Sometimes it does not have to be indispensable or it is also not that it is always used by human beings like essential amino acids or essential fatty acids.
The Process of Extraction
The natural essential oil can be extracted by several processes like distillation, usage of steam, expression, wax embedding, solvent extraction, absolute oil tapping, sfumatura, resin tapping, and cold pressing.
Of all these methods, distillation is the most common. It is used for the extraction of lavender, peppermint, tea tree oil, patchouli, and eucalyptus oils. The process includes putting various parts of the plant like the leaves, barks, flowers, wood, seeds, roots, or its peels into a distillation apparatus called alembic.
This apparatus is put over water and heated profusely. The steam that is generated from the heating water is then passed through the boiling material evaporating the volatile material. The vapours pass through a coil in which they cool and condense into liquid again. This is collected and put back into the apparatus again. Most oils are manufactured by distilling them once.
The recondensed water that is reclaimed from the process of manufacturing natural essential oil is referred to as a hydrosol, hydrolat, herbal distillate, or plant water and is increasingly being used by the cosmetics industries. Examples of such water are rose water, lavender water, etc.
Uses of Natural Essential Oils
Natural essential oils are used to flavour foods and drinks, in soaps, perfumes, cosmetics, room fresheners, and various other products like incense sticks and cleaning agents used in households. It is also consumed by the detergent-making industry.
Other uses of natural essential oils include aromatherapy. It is another method of treating patients for various small diseases. But if the oils are not used correctly, they may have adverse effects like allergic reactions, irritation of the skin, inflammation, and toxic effects in children. If taken orally they may become poisonous and ultimately fatal.
Some Common and Popular Natural Essential Oils
Some common and very popular Natural Essential Oils are davana, yellow champaka, bergamot mint, geraniol ex-palmerol, cinnamon leaf, black pepper, peppermint ex-mentha, lemongrass, natural spice, natural isolate, turmeric root oil, and geranyl acetate powder. These natural essential oils can be got from renowned natural essential oil manufacturers in Mumbai.
They manufacture good quality oil with the latest machinery incorporating premium quality raw materials like the plants from the best fields of India. The natural essential oil that is acquired from is safe and deemed fit for use for various purposes.